Jewel Aquarium
03/03/2018
Match fish of the same color and try to beat all levels with 3 stars in this challenging match3 game with 60 levels!
Category:match-3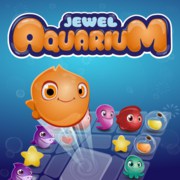 Totemia: Cursed Marbles .
Tina - Costume Party .
The Ways .
Nina True Make Up Actress Nina is famous for her style, but she needs a change.
Tina - Great Summer Day .
Street Hoops 3D .
Mafia Poker .
Tank Fury .
Trucksformers 2 Probably you have played side view monster truck games before, games that usually puts you in a world full of obstacles and explosions.
Red Hot Monster Truck Red hot monster truck is a new exciting game ready to start just for you.
Jelly Truck Everything is made of Jelly! Driving a truck made of jelly in a world made of jelly is hard to do. Make it through each level by completing the obstacles in front of you.
Wacky Strike Pick a side, setup your troops, and fight against your mortal enemy! March from your castle to the enemy castle claiming ground in between. Destroy the enemy castle as soon as you can.
Towers vs Ice cubes Destroy all ice cubes. Do not let them escape.
Spider TD In this tower defense game, mutant giant spiders are descending upon the town. The military has been called in to exterminate the spiders.
Flying Farm Travel the world and help Barney the farmer to bring back the lovely baby star to his parents in this captivating time management game.
Real Tennis Game .
Pong vs Bumpers .
The Lost Planet Tower Defense Once a dob5 spacecraft was committed to undertake a task to an alien planet. But on the way, the spacecraft got problems, it had to do the crash landing on a noname planet.
Heroes of Myths Heroes of Myths sails you back to the demon hordes and demolish their temples with the strongest warriors. The Greek heroes Hercules, Perseus, and Achilles will be on your side.
Galaxy Commander Command a space fleet and win great battles by using the right strategy.