Vanessa True Make Up
03/09/2018
Vannesa needs your help with her styling. Create her look by chosing her outfit and hairstyle andt match the perfect make-up and accessory with it.
Category:girls,make-up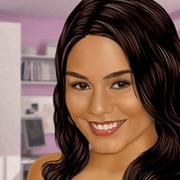 Square Stacker .
Princess Makeover .
The Little Giant .
Word Search Classic .
Amanda True Make Up Be a trendsetter and pick the perfect styling for actress Amanda in this girl game of the True Make Up Series.
Nina - Great Summer Day .
Find 500 Differences .
BFFs House Party .
Jewel Aquarium .
Totemia: Cursed Marbles .
Tina - Costume Party .
The Ways .
Nina True Make Up Actress Nina is famous for her style, but she needs a change.
Tina - Great Summer Day .
Street Hoops 3D .
Mafia Poker .
Tank Fury .
Trucksformers 2 Probably you have played side view monster truck games before, games that usually puts you in a world full of obstacles and explosions.
Red Hot Monster Truck Red hot monster truck is a new exciting game ready to start just for you.
Jelly Truck Everything is made of Jelly! Driving a truck made of jelly in a world made of jelly is hard to do. Make it through each level by completing the obstacles in front of you.